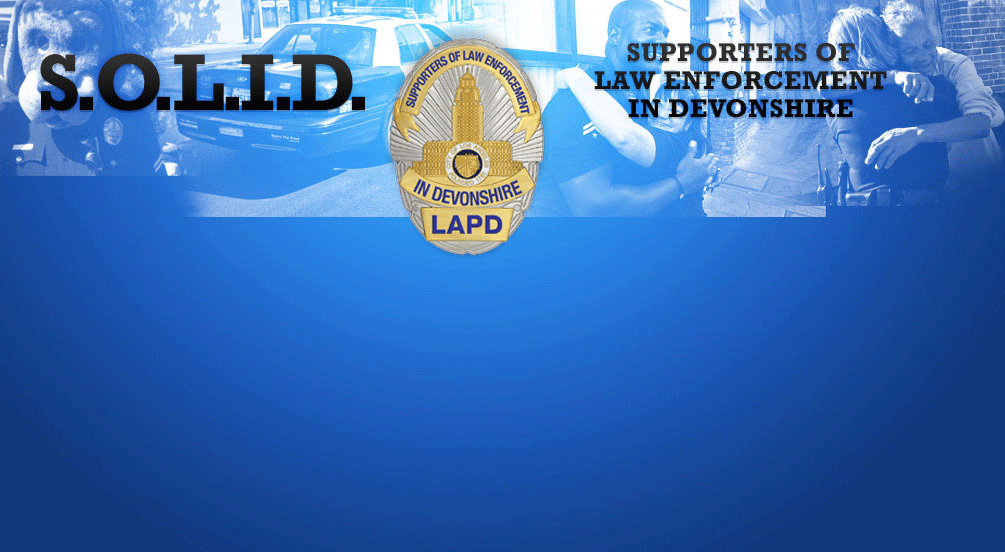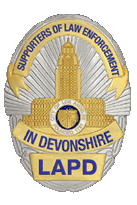 Supporters OF Law Enforcement In Devonshire
S.O.L.I.D. is a 501c-3
nonprofit corporation.
S.O.L.I.D. | P.O. Box 7181,
Northridge, CA 91327-7181
​
S.O.L.I.D.'s mission is two-fold:
​
First, we provide the officers in the Devonshire Division of the
Los Angeles Police Department with resources which the
City of Los Angeles does not provide.
​
Secondly, we support Community Policing. Everything donated to S.O.L.I.D. remains in the Devonshire Division and is used for the
enrichment of the Devonshire Community.
​
S.O.L.I.D. is a California 501(c)(3) non-profit and was formed in
1990. We continue to thrive with S.O.L.I.D. support from
individuals and businesses in our local area.
​
Every year the community supports our two main fundraisers, the
Annual Pancake Breakfast, which is held in May and the Annual Pasta Dinner, which is held in October.
HONORARY BOARD MEMBERS
Robert J Carlson, Esq.
Paula Cracium
Rickey Gelb
The Honorable John Lee
Dr. Eric Leser
Becky Leveque
Bob Luszczak, DDS
Jake Parunyan
Virgina Snow
Larry Stearn
Recognition From Michel R. Moore
Chief Of Police
Los Angeles Police Department
Courtesy of Mark Hovater who filmed this video




Thanks Mark for your support
Courtesy of Mark Hovater who filmed this video



National Night Out August 1, 2023
Dedication Of Refurbished Senior Lead Officer Trailer