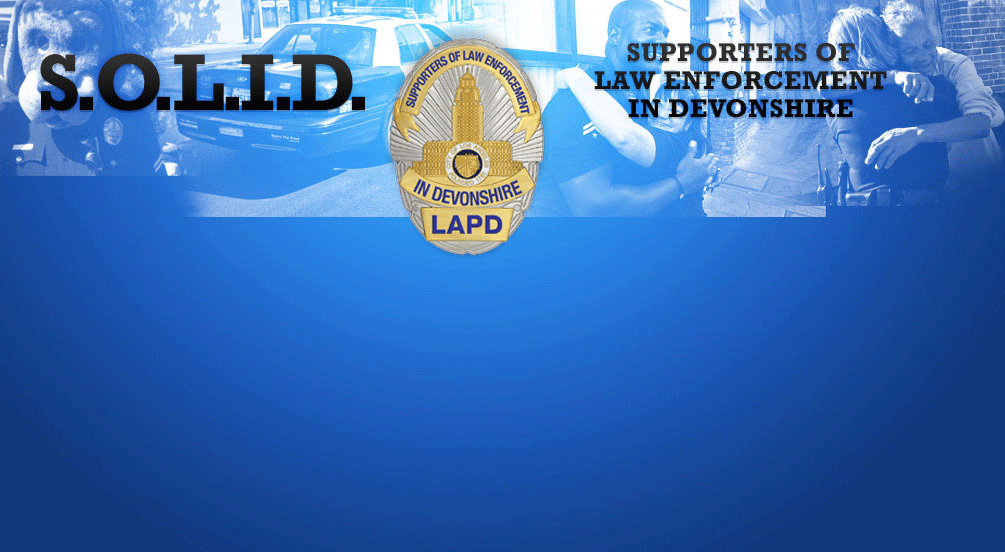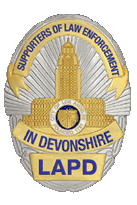 Supporters OF Law Enforcement In Devonshire
John Beard Jr. joined the SOLID Board in 2013. Born and raised in Los Angeles, John has lived in the San Fernando Valley his entire life. John attended Los Angeles Baptist High School and upon graduating, went on to work in the family printing business. Today John operates a printing plant with 49 employees. His company was founded by his dad in 1969. John has six children and has donated time and resources to LAFD Fire Station 60 and the North Hollywood Division of the LAPD. In 2010, John was named Man of the Year by the PALs volunteers at the North Hollywood Division.
Scott Caswell graduated from Cal State Northridge with a Bachelors Degree in Finance and Real Estate. Upon graduation he immediately stepped into Commercial Real Estate.

Scott is a Principal and the Managing Director of Lee & Associates LA North Commercial/Industrial RE office with long continued history of being acknowledged as the Broker of the Year and in 2023 awarded into the coveted Circle of Excellence within the 68 offices of Lee & Associates. Scott is married to Rana Caswell and they live in Tarzana.

Rana actively practices Acupuncture and Wellness. All his three daughters are individually successful in their rightful career paths. Scott and Rana love traveling, skiing, boating and the great outdoors.

Scott Caswell is on the Board of Governors for Providence Medical Center, Foundations – Tarzana.

What motivates Scott is his desire to give back?
Growing up in a family who have always been charitable, he sees the joy/value in giving. He has been very fortunate to have built a successful career in Commercial RE in the San Fernando Valley and the medical center was an outstanding way to give back to the those who have helped him become successful.

Why is he supporting the medical center and Solid?
He considers the Medical Center and Solid very noble causes and a long term game changers for the SF Valley.
Why did he agree to join the Solid?
He sincerely believes he can make a difference, add value and compliment the board. He has a unique skillset and drive to succeed in any goals he set my mind to.
Mark Cohen was born and raised in Southern California and currently resides in the San Fernando Valley. Mark graduated from California State University, Northridge in 1981 with a Bachelor's Degree in Accounting. He then went on to receive his CPA certification and license in 1983.
​
Mr. Cohen is currently the CFO of Denmarst Ltd./Anjac Fashion Buildings where he has worked for 29 years. Anjac is a Real Estate Investment Company which owns numerous commercial properties and includes locations in the Downtown Los Angeles Fashion District and across the San Fernando Valley.

Mark joined the S.O.L.I.D. Board in 2008 and is a past Vice President. He also serves as an Executive Committee member and the current Chairman of the Figueroa Corridor Business Improvement District.
​
Mark and his wife both graduated from CSUN and have been married for 30 years. The couple's son is also a CSUN graduate and their daughter continues the tradition by currently completing her Senior year.
Jeanne Cruger




Assistant Secretary
Jeanne Cruger was invited to join S.O.L.I.D Board of Directors in February 2020 and is honored to serve. She looks forward to supporting the brave men and women of the LAPD Devonshire Area.
​
Jeanne retired from Kaiser Permanente in 2016 after forty years of dedicated service and enjoyed many years volunteering through her
church. She is a native Californian and lives in the San Fernando Valley
with her husband Tim. They have three awesome children and five
beautiful grandchildren.

Gary Farajian




Vice President
Gary Farajian was asked to join the S.O.L.I.D. board in 2010. He is a past Vice President and currently serves as the chairperson of the Pancake Breakfast. Gary is a local resident, born and raised in the San Fernando Valley. He has served on the Granada Hills Chamber of Commerce board twice, is a past president and has been involved in local events for over 25 years.​

Gary is the President of Arpi Mechanical, a local family owned heating and air conditioning company. He is the father of two students currently enrolled at Granada Hills Charter High School. He feels working with S.O.L.I.D. is a great way to support our local police department and give back to the community.
Richard Farra is a returning SOLID member, first serving from 2003-2013. During his prior tenure with SOLID, he was active in all of the fundraising events.
Rich left SOLID to help the Marine Corps League Detachment 597 in their efforts to develop a community outreach program. This work encompassed brand building within their community. Additionally, he re-established the detachment's newsletter as managing editor winning three MCL national newsletter awards. Richard received multiple MCL awards for his work with the detachment and was selected by the detachment as the only civilian to participate in the 2015 wreath presentation celebrating President Reagan at the Reagan Library.
​
He was also a SCORE volunteer giving free assistance to small and start-up companies. He volunteered at the Greater Los Angeles Veterans Administration Sepulveda location helping Veterans become more aware of their benefits. He was also an adjunct professor at CSUN teaching business finance courses and helping with the annual Granada Hills Christmas Parade automobile staging and judging.
Jo Ann was born and raised in Los Angeles until she was 11 years old, moved to So. Oregon until she was 15. She then resided in San Gabriel Valley, married young and had 3 children. After a divorce she was left to raise them on her own.
In 1957 she moved to North Hollywood and found work in the grocery industry as a cashier. She stayed in the industry until her retirement in 2000. She married Roy in 1974. He was in the grocery industry also. He had 3 children so together they had 6. They bought a home in 1976 and Jo Ann still lives there.
They both volunteered for the Devonshire Police Dept. Jo Ann with V.S.T. and SOLID. Roy with graffiti removal and the station newsletter. Jo Ann is involved with the Chatsworth Community Coordination Council (CCCC).
She is active in her church and has led the women's group for several years. With Roy's passing a couple of years ago, Jo Ann took a break from SOLID but has now renewed her commitment to LAPD Devonshire through SOLID.
Debbie Forstall has been a part of S.O.L.I.D. Board since the summer of 2013. The district took note of her community efforts in 2001, and honored her with the woman of the year award for the 38th Assembly District for her community service efforts and work with Neurodegeneration with Brain Iron Accumulation (NBIA).

Debbie is on staff at Shepherd of the Hills Church as the Community Relations Coordinator, and also serves on the board for the San Fernando Police Department's Police Advisory Council. In 2009, after becoming a parent vendor through the North Los Angeles County Regional Center, she subsequently opened Flinn's Supported Living where she currently oversees and operates this business.
​
Her love for community work began in 2000, when she became a member of the Northridge Kiwanis Club and the North Valley Chamber of Commerce until 2007. Then in 2001, while serving as the secretary and fundraising chairperson for NBIA, she co-created and hosted an extremely successful fundraiser for the organization.

While still devoting herself to volunteering in the community, she first joined the Shepherd staff in 2008, developing and promoting the partnership program of Shepherd's Broadcast Department.

Her commitment to community service is only matched by her devotion to her family. She has also served on the Parent Teacher Association and volunteered at her daughter's schools.

Debbie resides in Northridge with her husband, Mark, and three daughters, April, Tracie and Taylor.
Dianne Kartiala




President
Dianne Kartiala has served on the S.O.L.I.D. Board since 1998. She was first on the Board as liaison for City Councilmembers Hal Bernson and Greig Smith. Upon retirement in 2008 she chose to and was elected to remain on the board.

Dianne has been involved in many projects over the years Including the Devonshire Dash, 1998 Pancakes Breakfast, Pasta Dinners, merchandise coordinator for the Car Show Raffle, Chairperson of Devonshire Open Houses, Police Appreciation breakfasts and S.O.L.I.D. Treasurer 2010- 2011. Dianne is also affiliated with the Chatsworth Historical Society| Chi Kappa Rho (Women in Leisure, Dept. of Recreation and Parks) Rotary Club of Granada Hills, President 2011-2012. She is a recipient of the 2008 Pioneer Award. She currently is the chairperson of the Pasta Dinner.

Her goal is to serve the community and her church through "Service Above Self". Dianne lives with her husband, Tapio, in Granada Hills. She has two adult children and five grandchildren
Your Tapio (also known as "Tap") was born in Helsinki Finland, and has lived in the Los Angeles area since 1957. He retired after 45 years as an Aerospace Structures Engineer, and has been an adjunct teacher at Los Angeles Valley College in the Engineering Department since 1981. He earned his Master's degree from USC, and a Bachelor's degree from UCLA. He has a Professional Engineer's License from the State of California, an Engineering Instructor's Credential from the Los Angeles Community College District, and two U.S. patents. In 2005 he founded SETLA (Scientists, Engineers and Technicians Leadership Association), and he has many years of community involvement as a member of the North Hills Jaycees, and by supporting the Granada Hills Rotary and Chamber of Commerce.
Lori, along with her family, have been residents and business owners in Granada Hills for the past 22 years. She has been married to her husband, Dr Bob Luszczak, for 26 years. They have two children, Michael (22) and Nicole (20). Lori and her husband own a dental practice and the building (6 tenants) in Old Granada Village. Lori's husband does the dental work and Lori handles the front office as well as the property manager. This has afforded her the opportunity to get to know many the community members on a personal level. Lori feels fortunate to live and work here.

While her children were growing up, she was a regular volunteer at their elementary school, St. Euphrasia. She started by volunteering in the classroom and on the Parent Advisory Council, eventually becoming president of the PTC board for two years. During her time on the PTC board, she was primarily responsible for raising money for the school for the things that tuition didn't cover. While her children were in high school she was a member of the Holy Cross Mother's Guild. The Guild's primary purpose was to raise money to assist in paying tuition costs for those students whom had lost a parent during their time at Notre Dame High School. Prior to living in the valley when was a volunteer through several organizations with the Board of Realtors in the La Canada/La Crescenta area.

Lori has been a long-time supporter of S.O.L.I.D. and believes in assisting our local law enforcement community whenever possible. She looks forward to working with the other SO.L.I.D. volunteers in helping them to reach their fundraising goals.
​
When she is not working, she enjoys traveling, walks in our community, and watching her daughter play volleyball for the University of California at Irvine Women's Volleyball Team.
Debi Mayer is new to S.O.L.I.D. in 2018. She has lived all of her life in Granada Hills and is looking forward to supporting law enforcement in Devonshire and her community. She has worked at the North Valley Family YMCA as coordinator of the Kids to Camp Golf Tournament and their Booster Club Dinner. She is a campaigner for the annual Y Community Gifts Campaign and also works with the Y Board of Managers.

Debi and her late husband Bill owned a construction company. While raising their two sons, she served as a volunteer for the Assistance League Los Angeles, PTF President at Granada Hills Baptist School, Church Board Member at Granada Hills Baptist Church and served on the L.A. Baptist High School golf tournament committee. Her parents and brother owned an auto repair in Northridge for 42 years, and her nephew and his family presently own and operate Impact Shirts, a custom shirt business in Granada Hills where they also live.
Dale Penn was invited to join the SOLID Board of Directors in 2011 and within one year, he was elected to serve as SOLID's Executive Secretary.
​
Mr. Penn is a commercial insurance, risk management and cybersecurity training expert. He served for several terms as President of the Parent-Teacher Fellowship at Los Angeles Baptist High School. He was also honored by Hillcrest Christian School (now Heritage Christian School) and received their "Eagle Award" for many years of active involvement.

Dale also serves on the Board of Elders at Shepherd of the Hills Church in Porter Ranch, California, where he participates in both local and global outreach.

Dale and his wife have five talented children and three adorable grandchildren.
Yolanda Petroski
Secretary
Yolanda Petroski has served on the SOLID Board since its inception in 1993 serving 16 years as Treasurer. She has co-chaired the annual Pancake Breakfast with Virginia Snow and has served as Parliamentarian. Her volunteerism in the community was recognized by being named Citizen of the Year by the Granada Hills Chamber of Commerce, Pioneer Woman of the Year by the 12th City Council District and Woman of the Year by the 38th Assembly District. A past president of the Granada Hills Woman's Club Yolanda heads a Red Hat Chapter and was involved with the Granada Theater for many years. In the past she has co-chaired the annual Pancake Breakfast with Virginia Snow and she has served as Parliamentarian.


From 1984 until 1997 Christine worked for Bank of Granada Hills, becoming an Assistant Vice President. She left the bank in 1997 to take a position in Los Angeles Mayor Richard Riordan's office. She worked on the Business Team for both Mayor Richard Riordan and Mayor James Hahn.

Christine is now retired. She has been a volunteer for the Los Angeles Police Department. In 2012 Christine was recognized as Reserve Officer/Volunteer of the year Robbery Homicide Division. She currently manages the S.O.L.I.D. web page.
Greig Smith was one of the original 4 persons who established SOLID in 1993. Working initially to raise funds for a new Senior Lead Officer office trailer, which was SOLID's first real project.

He has served on the Board of SOLID on several occasions.

Greig has been an active member of the North Valley community serving in
leadership roles in the North Hills Jaycees, Granada Hills Chamber of Commerce, North Valley YMCA, New Horizons, and Devonshire PALS. He recently retired as a Reserve Detective with the LAPD Cold Case Homicide Unit. During his years as Chairman of Board of the North Valley YMCA he played the key fund-raising role to be the new Y at Porter Ranch.

In 2003 Greig was Elected to serve the Northwest Valley as a member of the Los Angeles City Council. Greig also served as Chairman of the City Council Public Safety Committee which oversaw the LAPD. In that role he played a significant role in the construction of two new Police Divisions in the Valley… Topanga and Mission Divisions. He was re-elected in 2007 and during his final term coordinated the donations of $1.2 million for the construction of the PALS Youth Center along with 1 new Library, a new Animal Service Center and a number of new parks.

Greig Smith has a Marketing Degree from UCLA, Bachelors and Master
Degrees from USC. Greig is married to his wife Christine, and they have lived in Granada Hills for 47 years.

Jane was the North Valley Family YMCA at Porter Ranch Executive Director from 1987-2020. She has recently retired after a long career with the YMCA. She has supported SOLID for many years, and Jane is honored to be joining the Board in November 2020.

Jane grew up in Wisconsin and moved to California in 1984. She enjoys helping in community activities and looks forward to helping LAPD Devonshire Area.

​
Renee is honored to have been asked to serve on the S.O.L.I.D. board by Yolanda Petroski. Renee has lived almost her whole life in the San Fernando Valley and has lived in Granada Hills since 1985. She was introduced to the spirit of volunteering when she was 10 years old at a church festival. She has been volunteering ever since, at her daughter's grammar school, middle school, high school, and various community events. She currently is a volunteer docent with the Santa Monica Conservancy. As she and Mahatma Ghandi have observed, "The best way to find yourself is lose yourself in the service of others." She has been a freelance court reporter for 40 years and is still counting, traveling around the world
taking testimony.