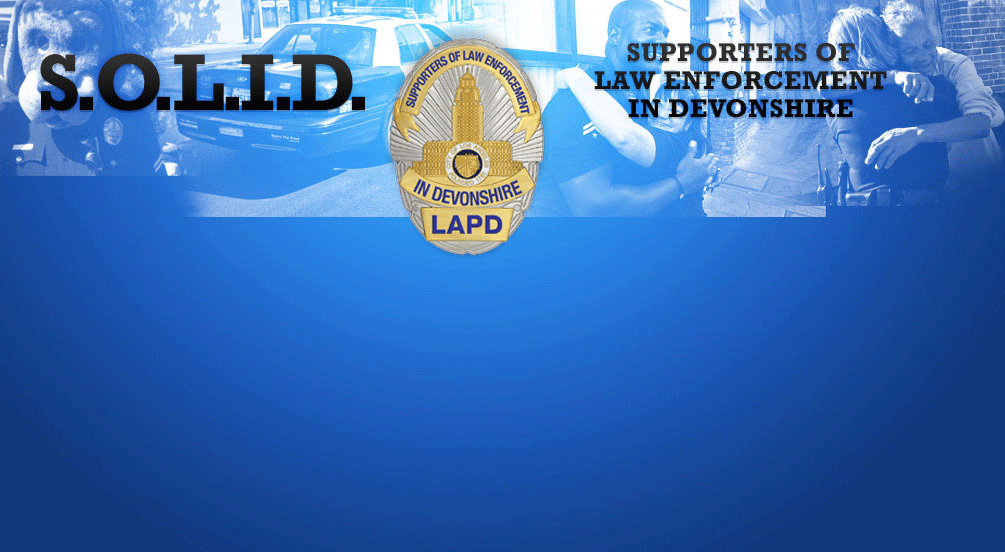 The Los Angeles Police Department, Devonshire Area, is excited to announce the launch of its new Application for smart phones and tablets! The free, easy-to-use App is available for use on both Apple and Android devices and offers the Devonshire Community immediate access to valuable, non-emergency Information including:
• A directory of key contacts for the Devonshire Area and for other LAPD Areas
• Upcoming Community events
• Tips for avoiding and/or addressing specific crimes
• Access to Penal Codes and laws
• Join LAPD
• Anonymous crime reporting
• Current crime in your area
• LAPD Devonshire social media sites
• Traffic Information
• LAPD Devonshire youth programs
• City of Los Angeles resources
• The ability to commend an LAPD Officer
The App will also alert you to upcoming meetings in the Devonshire Area, and notify you of pertinent updates.
To obtain this App on your smart phone and tablet, all you need to do is go to your Apple or Android App store, search and download the LAPD Devonshire App, and follow the simple step-by-step directions to enable use.
LAPD Devonshire Commanding Officer Bryan Lium is quoted as saying; "We are extremely excited to be able to provide the Community with the ability to acquire so much information, answer questions and address concerns in such a timely and easy to use format."
Note; The LAPD Devonshire App is only for non-emergency use. In an emergency situation, please call 9-1-1.
AMAZONS SMILE SIGNUP INSTRUCTIONS:
You can support the LAPD, by having Amazon donate funds to S.O.L.I.D. (Supporters Of Law-enforcement In Devonshire) without it costing you anything. All you need to do is instead of logging in to Amazon.com, you should log in to Smile.Amazon.com. Everything in your account will stay the same, except now Amazon will donate 0.5% of your purchase price to SOLID. You can use the link below to get you started.
https://smile.amazon.com/ch/95-4418512
The official charity name to input for supporting is: "Devonshire is SOLID"
Spread the word to your email address book and others.
Thanks.
Tap
Sign up for S.O.L.I.D. at Ralphs. Each time you swipe your card S.O.L.I.D. will earn money.
Published on Oct 23, 2018
This is our 25th Aniversary. The S.O.L.I.D. (Supporters of Law Enforcement in Devonshire ) Pasta Dinner has for the past 23 years held this event to benefit the officers of LAPD Devonshire. All proceeds go to Devonshire to purchase equipment and improvements at the station. The many restaurants and businesses who donate food or funds, as well as the community supporters, has made this fundraiser a success every year. The generous donation of the ballroom at St. Nicholas Greek Church and the additional parking at Latter Day Saints Church in Northridge has made this event possible. The S.O.L.I.D. Board of Directors appreciates all of the support.
Courtesy of Mark Hovater who filmed this video
Thanks Mark for your support
Alta Dena
Arpi Mechanical Gary Farajian
Councilman Greig Smith
Decision Publications
Devonshire Dog
DWP
Elite Generators
G2 Graphic Service
Galpin Ford
LAPD Devonshire Area Cadets
Leah Hernandez Crawford Mortuary
Marie Callender's
Mark Cohen, CFO, CPA
Anjac Fashion Buildings
CAST Real Estate Holdings
Kids From The Valley
The Orpheum Theater
Micah The Magician
Nutrishop
Patti Billings Malone
Regal theaters
Rick Enterprises
Shepherd Church
The Safari Room
Valley Rock Group Leah Hernandez
Thinisha Armstead
VCP and VBP
Video Game Bus
Volunteer Mounted Patrol
Walmart
For Support Of The S.O.L.I.D.
2019 Pancake Breakfast
For Support Of The S.O.L.I.D.
2019 Pasta Dinner
SAVE THE DATE
Pancake Breakfast & Open House April 25, 2020
Golf Tournament August 24, 2020
Pasta Dinner October 9, 2020