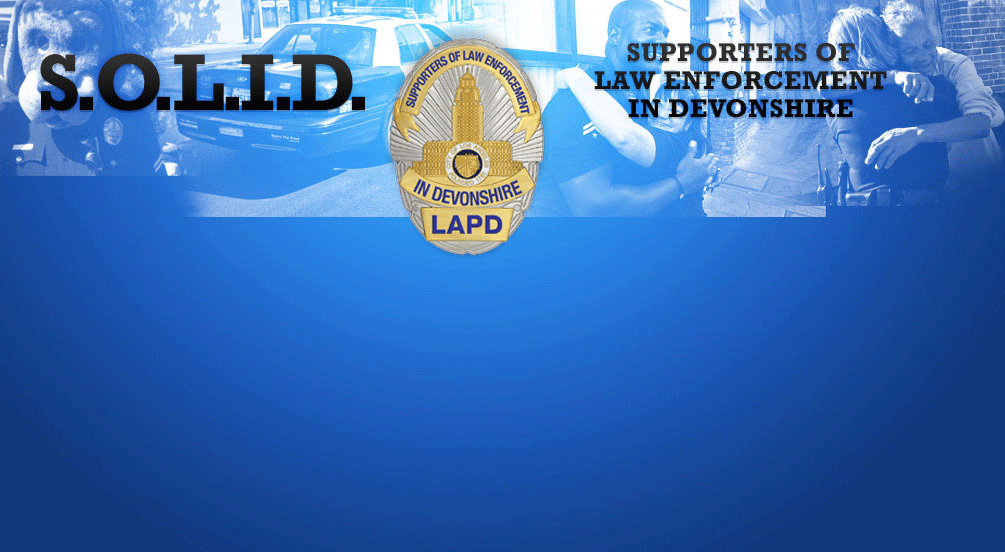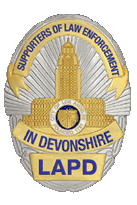 Supporters OF Law Enforcement In Devonshire
Courtesy of Mark Hovater who filmed this video
Thanks Mark for your support
Published on Oct 23, 2018
This is our 25th Aniversary. The S.O.L.I.D. (Supporters of Law Enforcement in Devonshire ) Pasta Dinner has for the past 23 years held this event to benefit the officers of LAPD Devonshire. All proceeds go to Devonshire to purchase equipment and improvements at the station. The many restaurants and businesses who donate food or funds, as well as the community supporters, has made this fundraiser a success every year. The generous donation of the ballroom at St. Nicholas Greek Church and the additional parking at Latter Day Saints Church in Northridge has made this event possible. The S.O.L.I.D. Board of Directors appreciates all of the support.
The Los Angeles Police Department, Devonshire Area, is excited to announce the launch of its new Application for smart phones and tablets! The free, easy-to-use App is available for use on both Apple and Android devices and offers the Devonshire Community immediate access to valuable, non-emergency Information including:
• A directory of key contacts for the Devonshire Area and for other LAPD Areas
• Upcoming Community events
• Tips for avoiding and/or addressing specific crimes
• Access to Penal Codes and laws
• Join LAPD
• Anonymous crime reporting
• Current crime in your area
• LAPD Devonshire social media sites
• Traffic Information
• LAPD Devonshire youth programs
• City of Los Angeles resources
• The ability to commend an LAPD Officer
The App will also alert you to upcoming meetings in the Devonshire Area, and notify you of pertinent updates.
To obtain this App on your smart phone and tablet, all you need to do is go to your Apple or Android App store, search and download the LAPD Devonshire App, and follow the simple step-by-step directions to enable use.
​
Note; The LAPD Devonshire App is only for non-emergency use. In an emergency situation, please call 9-1-1.
Sign up for S.O.L.I.D. at Ralphs. Each time you swipe your card S.O.L.I.D. will earn money.
Devonshire Selection of VOLUNTEER of the 1st QUARTER
Congratulations to DEBI MAYER from S.O.L.I.D for being selected as the Volunteer of the First Quarter. Thank you Debi for all you do through your involvement in S.O.L.I.D..
​
Mike Duarte
Devonshire Area
Reserve/Volunteer Coordinator
​
Courtesy of Mark Hovater who filmed this video
Thanks Mark for your support
​
Thank you to the Neighborhood Councils:
Granada Hills North, Chatsworth, North Hills West, Northridge East, Northridge South, Northridge West, Porter Ranch, and Winnetka.
Council District 12 John Lee's Office and Council District 3 Bob Blumenfeld's Office,
Cuevas & Cuevas Construction and ARPI Mechanical Inc (Heating & Cooling Services)
​
Thank you to our Devonshire SOLID Board Members:
Dianne Kartiala, Tapio Kartiala, John Beard Jr, Mark Cohen, Jeanne Cruger, Gary Farajian, Rich Farra, Debbie Forstall, Glenn M Gomez, JoAnn Inouye, Lori Luszczak, Debi Mayer, Dale Penn, Yolanda Petroski, Christine Smith, Greig Smith, and Jane Stanton.
​
Thank You To Those Who Supported The Renovations Of The Senior Lead Office & Community Relations Office
Courtesy of Mark Hovater who filmed this video
Thanks Mark for your support