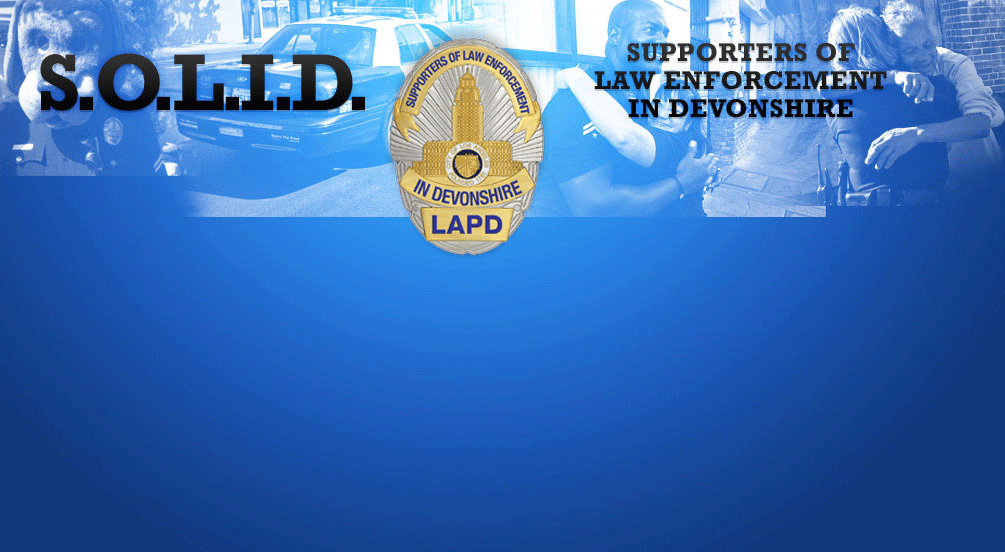 Now You Can Donate Online!
Who We Are
​
S.O.L.I.D. is a non profit organization that was established in 1993. We consist of local concernedcitizens, community members and businesses who are dedicated to promoting the goals of the LAPD Devonshire Area
​
What We Do
Our objective is to support the LAPD Devonshire Area by raising funds to purchase needed resources not provided by the City of Los Angeles. This may include equipment, training, updating technology, renovating existing facilities and providing amenities that would improve the working conditions of our officers. Some of our past projects and purchases have been
​
Renovation of the roll call room

Remodel of the break room

Purchase of the Force Option Simulator Building - Virtual Training Facility

Acquisition and refurbishment of the new Community Policing Center

Low light surveillance equipment

Scanners and color printers for the Crime Analysis Unit

Domestic Violence kits

Graffiti removal material used by neighborhood groups

Bicycles, bicycle patrol uniforms and accessories for bicycle patrol officers
​
​
​
​
Partnership Opportunities
​
With five levels of partnerships as outlined below, the important goals and support of the organization can be realized. Partners have the option of participating at the Diamond, Platinum, Gold, Silver, Bronze and Blue Level
​
Partnership Levels
​
Diamond Level $2,500
Lunch with the Captain, tour of the station, ride-a-long, plaque on the Devonshire Station Wall, annual partner reception and window sticker.
​
Platinum Level $1,000
Tour of the station, ride-a-long, plaque on the Devonshire Station Wall, annual partner reception and window sticker
​
Gold Level $500
Tour of the station, plaque on the Devonshire Station Wall, annual partner reception and window sticker
​
Silver Level $250
Plaque on the Devonshire Station Wall, annual partner reception and window sticker
​
Bronze Level $100
Annual partner reception and window sticker
​
Blue Level Other amount
window sticker